In addition, to the plenary session, there were two panels at this year's MCIS conference. The second, on the role of military and political instruments in ensuring regional and global stability was the more interesting of the two. The main speaker was Andrey Kartopolov, the head of the Main Operations Directorate of the Russian military's General Staff. Kartapolov focused on the threats posed to Russia by NATO.
He started by reminding the audience that NATO was founded to stop the spread of Communism in Europe. But after the collapse of the Soviet Union and the Warsaw Pact in 1991, the new Russia sought to become close to the West. The Russian government made unprecedented concessions to the West, including removing its troops from Europe and handing over its military bases to the countries of Eastern Europe. The west took this as a demonstration of Russian weakness, rather than an offer of peace and partnership. The US wanted to be the sole superpower and chose to ignore Russian interests. Washington saw Russia as a source of cheap resources that it would like to control. In order to achieve these goals, the US has consistently sought to weaken Russia's influence in the international system and in the post-Soviet space.
NATO has brought its military infrastructure up to Russia's borders. As a result, the entire territory of European Russia is under the threat of NATO air attack, with the time it would take NATO assets to reach critical Russian infrastructure having been cut in half. This is why a number of military facilities in the Baltic States, Poland, Romania and Bulgaria have been modernized to NATO standard since 2008. Furthermore, NATO is organizing military equipment storage bases on the territory of a number of East European states. This will allow NATO to rapidly deploy its first response forces near our borders and also decrease the amount of time it will take for additional forces to be transferred from the continental US and from Britain. Support agreements signed with Finland and Sweden have legitimized the presence of NATO forces on the territory of these countries and will allow the use of their infrastructure for the transfer of coalition forces to northern Europe.
NATO has increased its military strength in recent years, as the US has provided modern arms to its East European allies, including JASSM LRCMs. This will allow NATO to attack targets deep in Russian territory while avoiding Russian air defenses.
At the same time, the US is still trying to convince Russia that its strategic missile defense systems do not present a threat to Russia while refusing to take into account that Standard-3 missiles could in the future be capable of intercepting Russian ICBMs. Furthermore, the vertical launchers used by missile defense systems could also be used to launch Tomahawk missiles.
Since the start of the crisis in Ukraine, NATO activity has become strongly anti-Russian in its nature. Under the banner of countering Russian expansion, the alliance has systematically expanded its military presence on Russia's borders. At the present time, NATO has instituted a constant rotational presence of military forces in Eastern Europe, including up to 30 combat aircraft, at least 300 pieces of armor, and more than 1500 US military personnel. US and other NATO navies have almost constant ship presence in the Black Sea, while the frequency of reconnaissance aircraft flights have doubled compared to 2013. Since January 2015, there have been regular flights by Global Hawk UAVs over the Black Sea and in March they were expanded to include flights over Ukrainian airspace.
NATO exercise activity increased by 80% in 2014. Exercises such as Baltops and Sabre Strike were carried out next to Russia's borders and were openly anti-Russian in their nature. During these exercises, the NATO forces group in the Baltic region included 10,000 personnel, 1500 pieces of armor, up to 80 aircraft, and around 50 combat ships. Five US strategic bombers were also involved, deploying from airfields in the UK.
In the aftermath of the Wales summit, NATO is planning additional increases in force structure for next year, including a rapid response force of 30,000 personnel and a spearhead force of 5,000 personnel that can be ready to deploy in 2-7 days. AThe deployment of these forces will be organized by six command centers that will be established in the Baltic States, Poland, Romania, and Bulgaria.
Kartapolov's conclusions regarding NATO's activity and intentions highlighted US efforts to turn NATO into an instrument designed to contain Russia and ensure US global dominance. He also highlighted that bringing NATO infrastructure to Russia's borders will allow its air attack forces to penetrate deep into Russian territory, while reducing their response time, and in the future may allow the US to counter Russian strategic deterrence forces.
Kartapolov noted that Russia will have to take measures in response and argued that instead of mindlessly expanding NATO to include new members that were not ready for membership and placing members' armed forces next to Russia's borders, NATO should have been focusing on more significant threats (such as Islamic extremism and terrorism).
In good Soviet tradition, Kartapolov concluded his speech with a slide showing a citation from a speech by President Putin, in which he states that "Russia is not looking to start a military standoff with the West or to threaten anyone. But we will not allow anyone to use the language of force against us and will stand up for our national interests using all of the means at our disposal."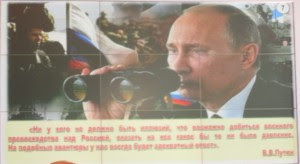 In addition to General Kartapolov, there were several other speakers on the panel. Here are highlights from some of their remarks:
Jean Pierre Chevenement — French Special Representative on relations with Russia
The crisis in Ukraine could have been avoided. Maintaining a frozen conflict is not in anyone's interest, but will only help extremists.

Need to declare Ukraine's neutrality.

Need to follow UNSC rules in order to avoid a new Cold War.
General Rivera — Head of Cuban military intelligence
Color revolutions and hybrid warfare have become state policy for some countries.

The US is still fighting against Cuba through subversion.

Other Latin American states don't interfere in each other's affairs.
General Yao Yunzhu — Director of China-US Defense Relations Center
Cold War legacies are still with us.

New security mechanisms are needed to maintain stability in the world.

US alliance networks in Asia-Pacific have become a de facto security architecture in the region.

Asia needs a security architecture that includes China. China wants an inclusive security partnership, rather than alliances.

The balance of nuclear forces prevented an active war during the Cold War period.

The desire for absolute security on the part of any state will upset strategic stability.

Missile defense upsets the balance of deterrence and could lead to future arms races.
– – – – – – – – –
This comment is also available at Russian Military Reform.